Midlands Open All-Round – 7th March Grimsby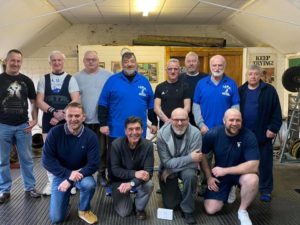 Click here for the full results.
Best Lifter Awards:
Best Open Lifter- For the Bill Jelley Award: Richard Metcalf
Best Masters Lifter– For the Peter Ready Trophy: Steve Sherwood
Overall Champion of Champions Rankings:        
1st Steve Sherwood    2nd Roger Davis    3rd Richard Metcalf
A few Words about the event: 
A really great competition today at Grimsby for the IAWA (UK) Midlands Open All round Championships held at the Haven Gym and promoted by Chris Bass. Despite losing a few lifters from the potential entry field on the run up to the competition we still made it with Nine Men Strong and True! The lifts today were the One Hand Snatch, Continental Clean and Jerk and the Front Squat. All of the lifters put up a good performance, and at the end of the day the top three in the Champion of Champions Rankings were: First Steve Sherwood, Second Roger Davis and Third Richard Metcalf, (with only 2 points between 1st and 2nd) Well done to all the Officials, Lifters and Loaders, with everyone mucking in to help load and catch for each other the day went as smooth as a knife through butter, so again many thanks to you all for making the day a good one. Lots of record were broken and set too, so again well done to all especially, Wayne Pawson lifting in his first IAWA competition, and to Richard Metcalf, Roger Davis and Steve Sherwood our Best Lifters. A big well done to Chris Bass for promoting the event, another super IAWA day. The opportunity was also taken to present Steve Sherwood with the 2019 All Round League Overall Winners Cup!