IAWA vs Covid-19 Virtual Lift Off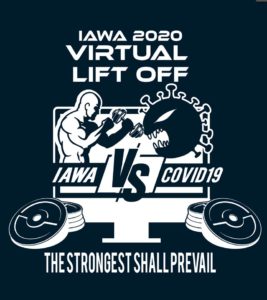 From Steve Gardner – The Results of the 2020 Virtual Lift Off Competition….
the level of involvement exceeded our Wildest dreams by far!!! the idea was to have some fun and create some involvement and inter action as best we could under the current situation, which is very difficult.
Interesting facts: we had 74 lifters take part from 9 different Countries: 33 England 23 USA 8 Australia 4 Wales 3 Scotland 2 Ireland 1 Finland 1 Canada and 1 New Zealand…….23 female lifters, 51 Male, 8 Juniors, 20 Open Lifters and 39 Masters. And there were 47 Different lifts used in the Competition…
I have created a results file and a Top lifters ranking file, but at the end of the day everyone who put themselves out to join in and be a prt of this ARE ALL CHAMPIONS!!
You can also view the 3 Way Challenge Match results, which was the reason this whole thing came about, Frank Ciavattone wondered if i could arrange a match against his team, and i was speaking with my co promoter for the Gold Cup: Stevie Shanks and we were saddened at having to cancel it, then whilst discussing the recent 'virtual stone lifting competition' that had been organised earlier, we just hit on the idea and our competiton was born……
Once again folks hope you all had a great time and like we said one day we will all look back on realising what a great thing we achieved between us!
The Results of the Three Way Challenge Match between the Old Powerhouse Gym England, Franks Gym USA and Steves Invitation International Masters Team.
Well done to the Masters team, and only one point in it between Powerhouse and Franks Gym……